Author Archive

At some point last year I mentioned that the four marks of the Catholic Church were the it was One, Holy, Catholic and Apostolic.  But, there really seems to be a fifth mark of the Church which encompasses them all: She is Eucharistic.
Since I've got a little time on my hands and a captive audience, I think I should define a few terms.
Eucharist is a Greek derived word meaning "thanksgiving". What Catholics call "The Mass" or "The Holy Sacrifice of the Mass" is also very validly called "The Eucharistic Sacrifice" or just "The Eucharist" for short. On one level, it's essentially a thanksgiving offering. A continuation of the Hebrew Todah (thank offering) which is a sacrifice of bread given to thank God when your life has been spared. The Eucharist appears to be the same sacrifice made by Melchizedek in Genesis 14:18. But, it is really the same sacrifice made by Jesus in Luke 22:19-20 as well as Luke 23:46.
The same sacrifice?
Yes, the sacrifice Jesus made for us 2000 years ago is made present over 400,000 times each day by priests throughout the world. It is not repeated, it is the same sacrifice. This is not rocket science; there are neither rockets nor science involved. It's just complete conviction that what Jesus said: that He would be with us, that the Church would not perish, that in order to have life within you you must eat His Flesh and drink His Blood, is all very real and tangible and possible for every man and woman in every age to experience.
How do we experience Christ?
Well, Catholics are a lucky bunch, so are the Orthodox. Because of apostolic succession we have the ability and the promise that we will experience God through miracles performed by ordinary folks. We've got a tradition going all the way back, which St. Justin Martyr explains:
And this food is called among us Εὐχαριστία [the Eucharist], of which no one is allowed to partake but the man who believes that the things which we teach are true, and who has been washed with the washing that is for the remission of sins, and unto regeneration, and who is so living as Christ has enjoined. For not as common bread and common drink do we receive these; but in like manner as Jesus Christ our Saviour, having been made flesh by the Word of God, had both flesh and blood for our salvation, so likewise have we been taught that the food which is blessed by the prayer of His word, and from which our blood and flesh by transmutation are nourished, is the flesh and blood of that Jesus who was made flesh.
So, once again St. Justin succinctly comes to my aid and saves my blog post from wandering off a cliff. Back in the 2nd century, we've got excellent evidence of:
 Who can participate in the Eucharist? Only those who believe (and would die for) what the Church teaches.
What is the Eucharist? The Body and Blood of Christ.
What do you need to do to purify yourself for receiving the Eucharist? Confess your sins.
And it's not like anyone's accusing him of making this up. It's pretty clear that whatever algorithm for worship St. Justin is describing isn't something he concocted, it's a tried and true liturgy. It's a work of the people for God passed down through Sacred Tradition.
The other thing we do with the Eucharist
I can't even pretend to speak for any other living soul, yet alone the billion plus Catholics wandering in and out of churches. However, when we come face to face with God, especially when He is exposed in a monstrance for Eucharistic adoration, there is an immediate and overwhelming sense of awe that cannot be purely learned behavior.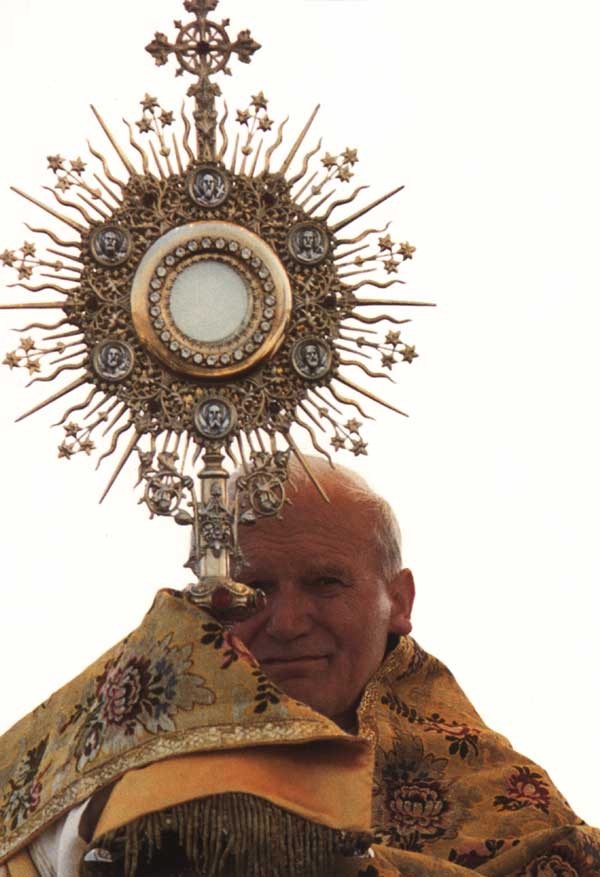 Eucharistic adoration is a practice that seems to be growing in the United States with adoration chapels and perpetual adoration devotions cropping up here and there. Especially in the years since Bl. Pope John Paul II proclaimed the Year of the Eucharist in 2005, the year he died.
My first encounter with Eucharistic adoration took me wholly by surprise. I didn't even know what I was looking at, but I felt as though I had been hit by a ton of bricks. I had been lured to a weekday Mass by a girl who had a strange habit of going to church every day. And that day happened to be a day when Adoration and Benediction was taking place.
Adoration, being the time for quiet reflective prayer before Our Eucharistic Lord placed in a receptacle called a monstrance on an altar for everyone to see.
Benediction, being the service after Adoration when the priest returns the Eucharistic to the tabernacle.
I was just looking, not understanding anything, but knowing that something strange was moving in my heart. I think that's a common occurrence but if you walk into a church with the Eucharist exposed and you kneel down to pray and you don't see or feel anything, don't be too disheartened. But, if Christianity is an encounter with a Person, then the Eucharist is the best possible way to make that encounter. Prayer and Bible study are fantastic sources of strength and actual grace (the grace to act). But it's only the sacraments that give us sanctifying grace (the grace to be saved) and the Eucharist is certainly the most readily frequented sacrament there is.
So why is the Church Eucharistic?
The Eucharist is a sign of our unity and oneness. It is the same offering happening throughout the world. The Eucharist is a sign of holiness, receiving it sets you apart from the rest of the world and commits you to the mission of Christ and the Church. The Eucharist is universal; everyone who is worthy and believes can partake in the banquet regardless of any distinction, except those aware of grave sin. The Eucharist is Apostolic, the example was given to the Apostles by Jesus at the Last Supper and even St. Paul participated in the breaking of bread (Acts 27:35).
But, the people of God themselves are Eucharistic,
And he put all things beneath his feet and gave him as head over all things to the church, which is his body, the fullness of the one who fills all things in every way (Eph 1:22-23 NABRE)
and because of that, He is in us as we are in Him as much as humanly possible!
There's quite a bit more to say, but to do so would fill up many many blog posts. I'm not sure how I managed to forget to define Transubstantiation, but if you have any questions about that. I'd be happy to fumble my way though an answer for you on Christianity.StackExchange.com
More info good Eucharist information:
The Lamb's Supper by Dr. Scott Hahn; details how the book of Revelation can be seen as a recipe for Mass.
Ecclesia Eucharistia by Bl. Pope John Paul II; Encyclical on the Eucharist for the Year of the Eucharist 2005
Eucharistic Miracles by Joan Carroll Cruz;  Chronicles of Eucharistic miracles (blood, levitation, conversions etc…)